Adding steel in the right places in a pallet racking system
Before acquiring a pallet racking system for your warehousing needs, it is essential to ensure that this system will withstand several types of impacts caused mainly by mobile equipment such as forklifts, electric pallet trucks, etc. This extremely heavy mobile equipment is constantly on the move in the pallet rack environment.
Several factors cause operators to maneuver in close proximity to storage systems:
The operation of filling or emptying a storage system makes uprights vulnerable to forklift impacts;
The aisles are getting narrower in order to increase the storage capacity of the distribution centre;
When receiving goods, operators frequently store pallets on the floor in the aisles;
Use of an inappropriate forklift in the environment where it is to be used (i.e., A counterbalanced forklift in a narrow-aisle warehouse system).
Maneuvering mobile equipment near pallet rack components means a high risk of frequent impacts on these components.
Structurack's engineering team has found a solution! The most stressed component in a storage system is the upright, which is why we designed the Structurack upright to better withstand impacts from forklifts. The goal is to add steel in the right places to better protect your pallet racking systems. Investing properly in the initial project helps you avoid paying large amounts of money to repair or replace damaged components in the future.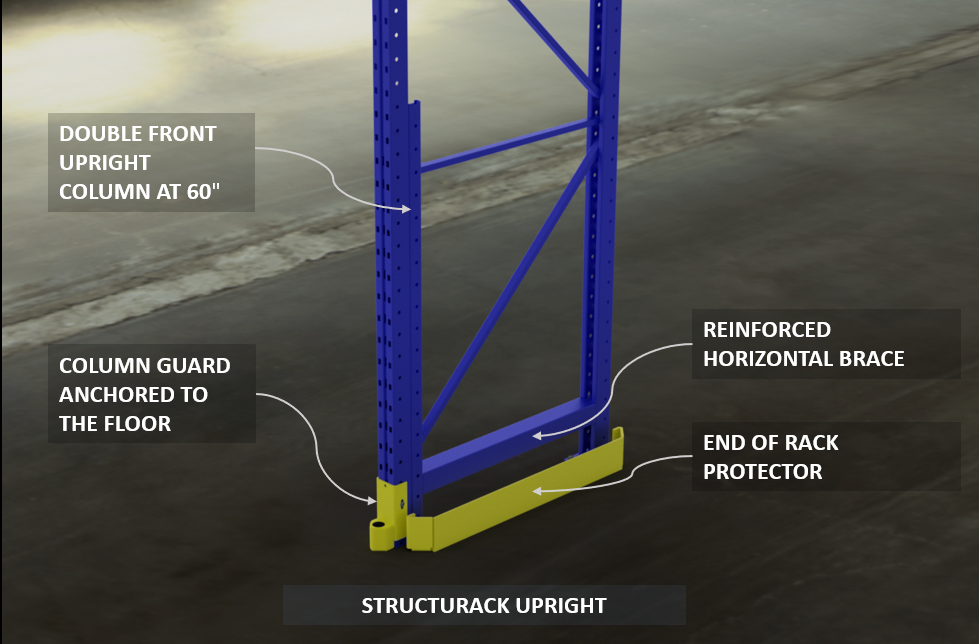 Of course, these uprights with racking protections are not invincible against handling equipment. It is therefore the employer's responsibility to ensure that each operator is properly trained to use lifting equipment.
For more information, please contact your Structurack representative!