Push-back pallet racks
The 3D Logistic pushback rack brand is referred to as Steadiflo and is available in 2, 3, 4, 5 and 6 deep styles that can be arranged as back-to-back islands or stand alone bays. Number of levels high restricted only by lift truck reach. No special fork lift trucks are required. Pushback rack systems are fully operational in freezers, coolers and high temperature environments. Pushback rack represents this best mix of high density storage with selectivity.
Increased Density
Today's challenge in warehouse racking is to store an ever increasing number of pallets, with an ever increasing number of products in a fixed storage space. These two factors pull in opposite directions. Pushback rack storage increases the pallet count, while offering many more pick faces than traditional high density storage systems like drive-in.
Pros
This system can be used in both new and existing installations.
Standard load capacity of 3000 lbs, up to 5000lbs.
The depth of the pallet rack system adjusts to your needs: from 2 to 6 pallet deep.
Can be installed in places deemed unusable.
Features and benefits
Linked carts.
Lift-out protections.
Low profile (carts).
Multi-purpose plate – to mainly ensure proper placement of pallets.
Sturdy welded shafts to carts.
How It Works
Each pushback lane is equipped with a pair of inclined rails and a series of nested carts (i.e., 4 carts in a 5 deep system). The first pallet is placed by the lift truck on the top cart. The operator loads the second pallet by pushing back the first load and placing it on the next exposed cart. Pallets three and four are loaded similarly. The last pallet is placed on the rails themselves. When removing product, the lift truck takes out the front pallet allowing the pallets on carts behind it to roll gently to the front of the rack.
When Does Pushback Apply?
When the average number of pallets per product exceeds five, a pushback rack system is justified. The higher the number, the deeper the lane is feasible (usually 3 lanes per product minimum). These multiple lanes allow rotation to achieve first-in first-out (FIFO). Steadiflo pushback rack systems can be configured to attain up to 100% more pallets stored than standard pallet racking and equal or greater increases over poorly occupied drive-in or floor storage configurations.
As Canada's largest manufacturer of pushback systems, we have the most competitive product with the most safety features.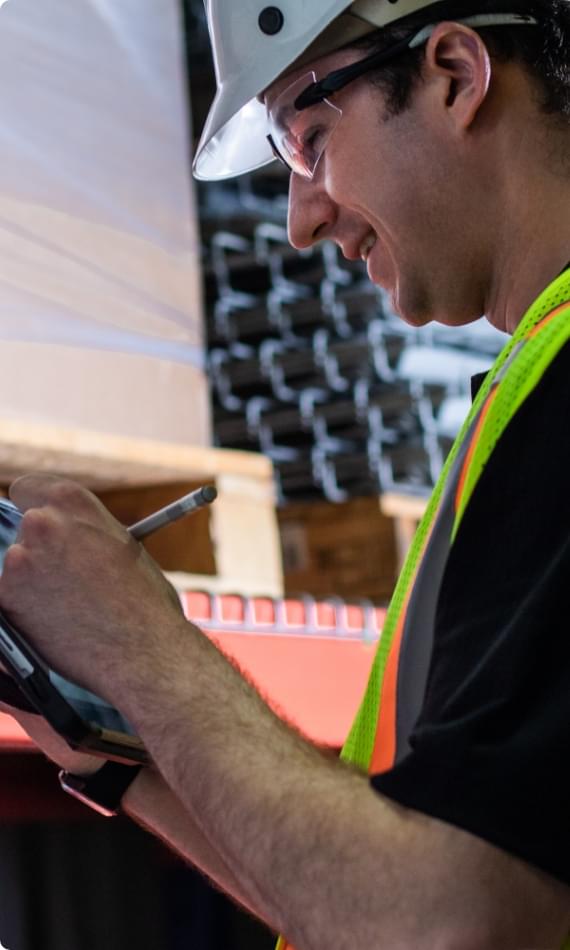 Storage systems that exceed your expectations
Structurack is an ally that offers undeniable added value in the turnkey implementation of your projects. Our storage systems are designed for the reality of your distribution centre.